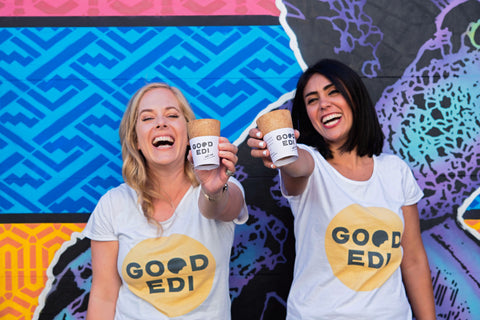 Each year in Australia 1 billion takeaway cups are being sent to landfill. We created the Good-Edi cup to provide a sustainable and eco-friendly choice when opting for a single-use takeaway cup.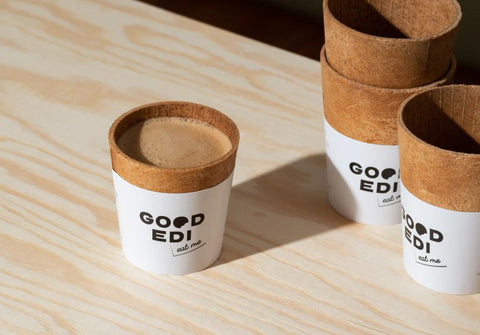 Why an edible coffee cup?
Our origin story is much like everyone's.
We decided to take our 20 years of experience in food processing and do something good. Turns out it was our destiny to do this one edible takeaway cup at a time. We're Catherine and Aniyo, founders of Good-Edi. 
Australia loves coffee, but with that comes a challenge. In fact, it's one of the most significant waste challenges facing the country today. There's no doubt takeaway cups are handy. But we were shocked to find out that 2.7 million of them are finding their way into landfills each day in Australia. That's an estimated one billion every year.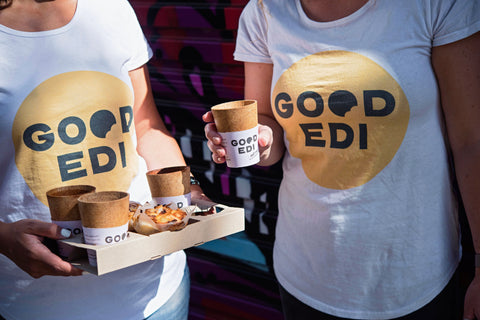 We felt that the solution to this pressing issue needed to be waste-free. Not just shift the problem elsewhere. Unfortunately, most eco-friendly cups require special commercial facilities and specific environments to break down over time. Most still end up in a landfill. 
So we developed an edible cup, and we made sure it was done in Australia with locally and ethically sourced ingredients.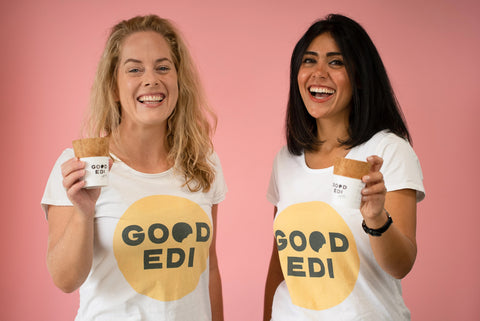 So how is it all going?
Pretty darn well. Chris Hemsworth said he likes our product. And apparently, he actually touched it too. 
We've also had a super successful round of crowdfunding and our expert baking team is hard at work at 'Good-Edi HQ', our dedicated facility in Coburg. 
All in all, it's been a solid 12 months.
Partner with us
At Good-Edi, we love doing bespoke.

Activations, events, office parties, corporate functions, birthdays, weddings and everything in between.

We've got you.
Read more about our Wholesale Partnership offering below!
Learn More